Paris 2015
It is #mondayblues and I think I am not 100% here, I am still mentally in Paris, walking its streets and enjoying its food ;)
Paris is beautiful, even though French themselves call this city grey and rainy (I think they might be confusing it with London). Reason we went was to celebrate Ben's mother's birthday (hello Vinny and Sarah!)
We secretly started preparing this trip as a surprise 6 months ago: booked Eurostar, airbnb apartment and Moulin Rouge tickets. I cannot remember exactly whose idea it was to go see Moulin Rouge but since we were staying in Montmartre it would be a sin not to see the classical cabaret show.
Vinny and Sarah have arrived to London on Thursday night and we went to bed quite late. Considering early rise at 3.30 (!) it was quite difficult to force ourselves out of beds. We had a taxi take us to St Pancras and all this time Vinny didn't know where we were going. We had to say we were out on a day trip and that is why we were going to a train station. Only when we went through Eurostar terminal, it was clear we are off somewhere outside UK. And then we broke the news saying we were going to Paris :)
Eurostar trains being 10 years old are still the best way for us to get to continental Europe, it is only 2.5 hours to Paris. We had some small nibble on the train and got to Gare du Nord (North Station) at 9.20 local time.

We had quite a bit of time until our check in airbnb so we left the bags at the luggage facilities and went exploring. To find luggage storage, get off Eurostar train, walk forward and on the right you will see escalators leading you down with the yellow sign saying Consignes. We rented a big locker for 9.5 eur, it was ours for 48 hours but we only needed it for half a day.

After that we went to l'Ile de la Cite to have breakfast and say hello to Notre Dame de Paris. Lonely Planet is an essential guide for travelling and gives the best tips on where to eat and what to do. It recommended Le Saint Regis for food and we got there on time for typical Parisian breakfast (bread and more bread lol).
Notre Dame and this cafe are situated on the small islands that were not inhabited until connected to the city by bridges.
And then we went to see Notre Dame, Conciergerie and Sainte Chapelle – beautiful!!!
Conciergerie is the oldest largest medieval hall preserved in Europe. It used to be a royal palace, a prison and is a museum now which tells us the stories of famous prisoners who were kept there during French Revolution. I particularly liked Camille Desmoulins portrait:
Camille was a journalist and politician who played an important role in the French Revolution. He was a childhood friend of Maximilien Robespierre and a close friend and political ally of Georges Danton and Jean-Paul Marat, who were influential figures in the French Revolution. Desmoulins was tried and executed at the age of 34 alongside Danton in response to Dantonist opposition to the Committee of Public Safety.
The trial was less criminal in nature than political, and as such unfolded in an irregular fashion. The accused were prevented from defending themselves by a decree of the National Convention. This fact, together with confusing and often incidental denunciations (for instance, a report that Danton, while engaged in political work in Brussels, had appropriated a carriage filled with several hundred thousand pounds of table linen)[13] and threats made by prosecutor Antoine Quentin Fouquier-Tinville towards members of the jury, helped to ensure a guilty verdict. Additionally, the accused were denied the right to have witnesses appear on their behalf, though they had submitted requests for several – including, in Desmoulins' case, Robespierre. The verdict was passed in the absence of the accused, who had been removed from the courtroom to prevent unrest among the trial's observers. Their execution was scheduled for the same day.
In a letter to his wife from the Luxembourg Prison, Desmoulins wrote,
[I]t is marvellous that I have walked for five years along the precipices of the Revolution without falling over them, and that I am still living; and I rest my head calmly upon the pillow of my writings… I have dreamed of a Republic such as all the world would have adored. I could never have believed that men could be so ferocious and so unjust.[14]
As Desmoulins was taken to the guillotine, he was informed of his wife's arrest and went mad. It took several men to get him to the tumbril. He struggled and tried to plead with the mob, ripping his shirt in the process. Lucile was also soon to be slated for execution and died only eight days later.
Another famous prisoner of Conciergerie was Marie Antoinette (this is a great film about her young years as the Queen starring Kirsten Dunst)
The queen was moved to an isolated underground cell in the Conciergerie as 'Prisoner No. 280'. This period of time was the most difficult period of her captivity. She was always attended by guards who restrained her, did not allow her any privacy and treated her very badly; an attempt to escape was foiled due to the inability to corrupt all the guards, to fear, and also to the large numbers of iron doors which totally cut the underground cell where Marie Antoinette was isolated from the rest of the prison.
She was guillotined at 12:15 p.m. on 16 October 1793, at the Place de la Révolution (present-day Place de la Concorde).
Her last words were "Pardon me, sir, I meant not to do it", to Henri Sanson the executioner, whose foot she had accidentally stepped on after climbing the scaffold. Her body was thrown into an unmarked grave in the Madeleine cemetery, (which was closed the following year).
We continued to Sainte Chapelle and luckily the day was sunny so we enjoyed the beauty of the chapel's stained glass. The floor at St Chapelle:
This chapel is so so pretty! It was built in 13th century, nearly 2/3 of all windows are authentic from that time :)
After that we went to Montmartre where we rented an apartment for 2 nights.
18th arrondissement (Paris is broken down into areas which are called arrondissements) is known for Sacre Coeur basilica and the hill of Montmartre. It has also given the world plenty of artists, writers and in the last decade one of my favourite musicians – Zaz.
One of the best things about Paris is morning rituals of getting fresh baguette and pastries from boulangeries (bakeries) and having a feast:
We walked up and down the hills and were treated to a nice old film "Funny Face" starring audrey Hepburn and Fred Astaire. In the introduction speech the festival organiser explained that they show films that depict Paris :)
We also saw the Wall of Love
Montmartre was also made famous by the film "Le fabuleux destin d'Amelie Poulin" which is shortly knows as "Amelie", one of my favourite films.  It is a beautiful story of finding self and helping others that made Audrey Tautou known to international audience. The cafe where film took place, is still there and is called "Cafe des 2 Moulins" (moulin means a windmill).
I cannot forget the most delicious pastries and baguettes which you can get anywhere in Paris and especially at Coquelicot and Grenier a Pain which have won awards for the best baguette and the best croissant (mmm, I crave those croissants right now):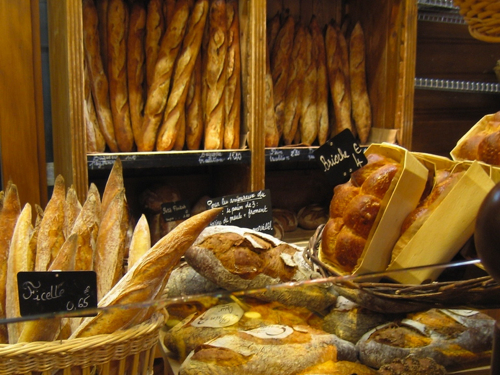 We had dinner at Chez Toinnette which served the best lamb shanks and duck we have ever eaten in a restaurant. Despite us having wine wine, the bill was surprisingly small so we unanimously agreed that was the place to eat.
The first day was quite intense, we had only 3 hours of sleep and walked the whole day so when it was time to go to bed, we were all happy to relax and have a lie in the next morning.
Saturday was full of sightseeing and walking as well as eating and drinking :) We started with L'Arc de Triomphe. It should not be confused with a smaller arch, theArc de Triomphe du Carrousel, which stands west of the Louvre. The Arc de Triomphe honours those who fought and died for France in the French Revolutionary and the Napoleonic Wars, with the names of all French victories and generals inscribed on its inner and outer surfaces. Beneath its vault lies the Tomb of the Unknown Soldier from World War I. It was commissioned in 1806 after the victory at Austerlitz by Emperor Napoleon at the peak of his fortunes. Laying the foundations alone took two years and, in 1810, when Napoleon entered Paris from the west with his bride Archduchess Marie-Louise of Austria, he had a wooden mock-up of the completed arch constructed. On 15 December 1840, brought back to France from Saint Helena, Napoleon's remains passed under it on their way to the Emperor's final resting place at the Invalides. Prior to burial in the Panthéon, the body of Victor Hugo was exposed under the Arc during the night of 22 May 1885. On 7 August 1919, Charles Godefroy successfully flew his biplane under the Arc.
In the prolongation of the Avenue des Champs-Élysées, a new arch, the Grande Arche de la Défense, was built in 1982, completing the line of monuments that forms Paris's Axe historique. After the Arc de Triomphe du Carrousel and the Arc de Triomphe de l'Étoile, the Grande Arche is the third arch built on the same perspective. In 1995, the Armed Islamic Group of Algeria placed a bomb near the Arc de Triomphe which wounded 17 people as part of a campaign of bombings.
The best memory of the day was seeing the Eiffel Tower from Bir-Hakim metro station when the train gets out of the tunnel and you see the metal laces of La Tour.
Erected in 1889 as the entrance arch to the 1889 World's Fair, it was initially criticized by some of France's leading artists and intellectuals for its design, but has become both a global cultural icon of France and one of the most recognisable structures in the world.
The projected tower had been a subject of some controversy, attracting criticism from both those who did not believe that it was feasible and those who objected on artistic grounds, whose objections were an expression of a longstanding debate about the relationship between architecture and engineering. This came to a head as work began at the Champ de Mars: A "Committee of Three Hundred" (one member for each metre of the tower's height) was formed, led by the prominent architect Charles Garnier and including some of the most important figures of the French arts establishment, including Adolphe Bouguereau, Guy de Maupassant, Charles Gounod andJules Massenet: a petition was sent to Charles Alphand, the Minister of Works and Commissioner for the Exposition, and was published by Le Temps on 14 February 1887.[6]
We, writers, painters, sculptors, architects and passionate devotees of the hitherto untouched beauty of Paris, protest with all our strength, with all our indignation in the name of slighted French taste, against the erection … of this useless and monstrous Eiffel Tower … To bring our arguments home, imagine for a moment a giddy, ridiculous tower dominating Paris like a gigantic black smokestack, crushing under its barbaric bulk

Notre Dame

, the

Tour Saint-Jacques

, the

Louvre

, the Dome of

les Invalides

, the

Arc de Triomphe

, all of our humiliated monuments will disappear in this ghastly dream. And for twenty years … we shall see stretching like a blot of ink the hateful shadow of the hateful column of bolted sheet metal.
Gustave Eiffel responded to these criticisms by comparing his tower to the Egyptian pyramids: "My tower will be the tallest edifice ever erected by man. Will it not also be grandiose in its way? And why would something admirable in Egypt become hideous and ridiculous in Paris?" Some of the protesters were to change their minds when the tower was built; others remained unconvinced. Guy de Maupassant supposedly ate lunch in the tower's restaurant every day because it was the one place in Paris where the tower was not visible.
By 1918 it had become a symbol for Paris and for France, when Guillaume Apollinaire made a nationalist poem in the shape of the tower (a calligram) to express his feelings about the war against Germany. It is widely considered now to be a striking piece of structural art, and is often featured in films and literature.
Then we walked to Pont de L'Alma where people bring flowers to commemorate princess Diana and walked along av. Montaigne with its expensive boutiques and gorgeous hotels.
As I have mentioned previously in my other post about France, French restaurants opening times are very peculiar. There is a siesta from 2 till 7pm and the only place to eat are brasseries and we enjoyed that :)
We got to Champs Elysees and walked to the Louvre past les Jardins des Tuileries
We did not go inside Louvre because it would have taken us at least half a day to explore it so we decided to leave it till the next time. Nearly 35,000 objects from prehistory to the 21st century are exhibited over an area of 60,600 square metres (652,300 square feet). The Louvre is the world's most visited museum. The museum is housed in the Louvre Palace, originally built as a fortress in the late 12th century under Philip II. Remnants of the fortress are visible in the basement of the museum. The building was extended many times to form the present Louvre Palace. In 1682, Louis XIV chose the Palace of Versailles for his household, leaving the Louvre primarily as a place to display the royal collection, including, from 1692, a collection of ancient Greek and Roman sculpture. In 1692, the building was occupied by the Académie des Inscriptions et Belles Lettres and the Académie Royale de Peinture et de Sculpture, which in 1699 held the first of a series of salons. The Académie remained at the Louvre for 100 years. During the French Revolution, the National Assembly decreed that the Louvre should be used as a museum to display the nation's masterpieces.
Instead we went into Musee de l'Orangerie to see Waterlillies by Monet and some other works by Picasso, Modigliani and others.
After that we went home to chill for a bit and went out for dinner to Creperie Pen-Ty founded in 1976 and serving traditional food of Brittany – sweet crepes and savoury galettes :p
We tricked Vinny into walking past Moulin Rouge and she did not know we have already booked tickets – it was a big surprise! =)
The next day we walked to Sacre Coeur, admired the view and then headed to Gare du Nord to go back to London. From the dawn of time Montmartre has been a place of worship : from the Druids of ancient Gaul, through the Romans with their temples dedicated to Mars and Mercury, to the Church of Saint Peter, the oldest in Paris, rebuilt in the 12th century next to the Royal Abbey of Montmartre by Louis VI and his wife Adélaïde de Savoie… Finally, the Basilica of the Sacré-Cœur, erected at the end of the 19th century.
It is a massive basilica and the most impressive thing about it were the mosaics (mozeaks lol!) and the Dome: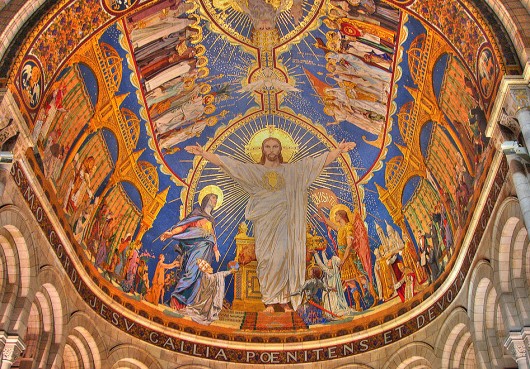 Panoramic view from Sacre Coeur
Going back to London was a bit sad because none of us wanted to leave Paris but it was great to know that there is such a wonderful place that we have enjoyed a lot and where we will definitely come back again!
Thank you Vinny, Sarah and Ben for being great travel companions and having so many laughs together :)
xxx